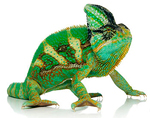 Showcase Cages accepts Visa, Mastercard, Discover, American Express, Money Orders, Cashiers Checks, Business and
Personal Checks.There may be a three to five day hold on checks.7.75% tax is added to sales in CA.

Cages,stands,casters,heat pad holders,locks sold separately.Items shown in or on our Stands and Cages are not included.

One set of Casters free per Stand.Levelers will not be included.Casters add about 2.5" to overall height.For indoor use only.

A signature is required upon delivery.Please have someone available to provide a signature during delivery.
If a Cage and Display Stand are ordered at the same time the Display Stand box will be attached to the cage box.

Sales are not subject to a refund if delivery is attempted and nobody receives the package,or if the delivery is refused
or returned for any reason.Orders are not subject to change or cancelation after shipping of your order has begun.

Warranty doesn't extend beyond ten days from the delivery date.Items that have been modified or not in original condition
are not refundable.Any issues,including damage,shortages must be reported to the carrier immediately at the time of delivery.
Any of these issues must also be reported to Showcase Cages immediately by email to : showcasecages@hotmail.com

An authorized item must be returned by FedEx or UPS and have the Return Merchandise Authorization number (RMA#)
issued by us written on the box

Items

must be returned to us within ten days from the date the

RMA #

was issued.
Request for returning items must be submitted to us by email : Email address is : showcasecages@hotmail.com

Customer is responsible for shipping items back to us,shipping costs are not refundable.

There is a restocking fee of fifteen percent for returned items.Merchandise must be returned in the original box and packaging.

Prices,colors,specifications subject to change without notice.Dimensions are plus or minus two inches.

Most orders ship within twenty-four hours,weekends and holidays not included.

We ship very quickly but please give us a little more time to fill large orders.Orders containing multiple items may be delivered
over multiple shipments.

Showcase Cages ships every business day of the year within the contiguous U.S. Items are delivered by FedEx Ground,
UPS Ground, or USPS Priority Mail.
Email address : showcasecages@hotmail.com